Ships Stores
Mission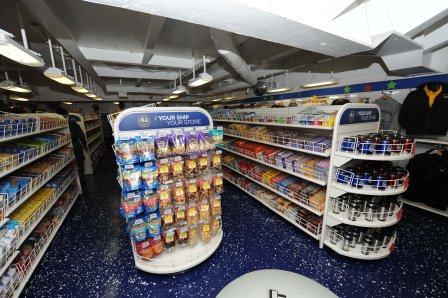 The mission of the Ships Stores Program is to provide quality goods at a savings, to provide quality services necessary for day to day living, to provide funding for afloat recreation needs and to promote good morale.
Ships Stores
For Sailors stationed aboard Navy ships, the ships store is a quality of life necessity for obtaining needed items while on deployment. Ships stores carry basic necessities such as soap and shampoo as well as a limited selection of semi-luxury items such as watches and consumer electronic items. Sailors can also purchase prepaid AT&T Global Prepaid Cards to call loved ones back home. The ships store is also responsible for a number of quality of life services aboard ship including vending machines, barber shops and laundry services for crew members. Profits generated from sales in ships stores are turned over to the ship's MWR program to enhance crew morale. These activities include funding for crew recreation when deployed overseas, official special events, crew/family events, discounted ticket to amusement parks for crew members and their families as well as purchasing exercise equipment for use aboard ship.
Ships Stores Ashore
Navy family members can be stationed in remote and isolated locations such as Diego Garcia (Indian Ocean), as well as San Nicolas Island and San Clemente Island (islands off the coast of California). The Ships Stores Program operates ships stores ashore to ensure Sailors and Marines have a taste of home when stationed in these areas. Ships stores ashore are run by ship's servicemen, as is also the case in ships stores afloat. They provide quality products at comparable stateside prices. Just like NEXs, profits generated from ships stores ashore go to local MWR programs to support quality of life initiatives. More importantly, however, is that wherever a Navy family member goes, the NEXCOM Enterprise is there to serve them.
Contact the Ships Stores Program
The Ships Stores Program exists to meet the needs of the afloat Sailor. Service to the fleet and our afloat customers is our number one priority. We welcome your feedback. We take your comments seriously and will use them to initiate improvements. Please e-mail the Ships Stores Program with your comments and concerns: customerservice@nexweb.org or send mail to:
Ships Stores Program, Navy Exchange Service Command
3280 Virginia Beach Blvd.
Virginia Beach, VA 23452
More Info
Select one of the pages below for more information and resources: