More in NEXCOM Enterprise Info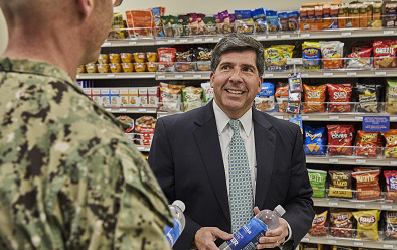 Welcome to the Navy Exchange Service Command (NEXCOM) Enterprise. Since our inception in 1946, our mission has been to provide our customers quality goods and services at a savings and to support Navy quality of life programs.
NEXCOM's seven primary business lines include the Navy Exchange (NEX), Navy Lodge Program, Navy Gateway Inns & Suites, Ships Store Program, Uniform Program Management Office, Navy Clothing and Textile Research Facility and the Telecommunications Program Office. Each of our business lines provide the necessary support for our Navy's warfighters and military families to remain ready and resilient.
As a Navy command, we contribute to mission readiness by providing quality of life services to our patrons no matter where they are stationed around the world. Throughout every stage in your career, know that we are here to support you and your loved ones every step of the way - whether it's providing PREMIER customer service at NEX retail stores, PREMIER guest service at our Navy Lodge and NGIS locations, quality Navy uniforms, snacks aboard ship or telecommunications services on Navy installations worldwide. We are committed to being an essential resource for our nation's most deserving patriots for years to come!
We also give back 100% of our earnings to support Navy quality of life programs. Since 1946, we've given a total of over $3.7 billion to Navy MWR!
On behalf of our over 16,000 associates worldwide, thank you for your service and patronage!
R. J. BIANCHI Chief Executive Officer Navy Exchange Service Command