NEXCOM Information Technology
What major retailer has over 300 locations, 2,200 registers, operates on 4 continents, and has as its primary mission to support the quality of life and well-being of its customers? It doesn't exist you say? Not only does it exist, but you have an opportunity to be a part of this great organization.
From Atusgi, Japan to Norfolk, VA the Navy Exchange Service Command (NEXCOM) is a 24/7 retailer that provides quality products and services at a savings to active and retired service-members and their families. It also gives back 70% of its profits in the form of a dividend to fund Morale, Welfare, and Recreation (MWR) programs for these same customers.
As you can imagine, there is a wide array of technology supporting this multi-billion dollar operation and a great team of IT professionals dedicated to keeping things running smoothly. We have hardware and software supporting supply chain, point of sale, merchandising and the like. We also operate gas stations, hotels, beauty salons, tailors, florists, restaurants, and auto service stations. There isn't much in the retail space we don't do. As a Department of the Navy activity, there is also much that we do that other retailers do not. For example, information assurance and security are a major focus for us and our government affiliation provides for some very unique requirements. Throughout your career with NEXCOM, we will support you in acquiring and maintaining the latest certifications.
Our exceptional mission requires exceptional technology people. This is where you come in.

IT at NEXCOM:
NEXCOM's IT team is broken down into four distinct functional areas:
Application Systems
Our Application Systems teams support the retail, financial, order management, personnel, supply chain, HR, e-commerce, hospitality and transportation related applications. If it is end-user software that is required for our businesses, this team's drive is to implement and support it. Our application portfolio is wide and varied and includes products from Oracle (Retail Suite and HR), Infor, Aptos, and others.
Infrastructure
Of course, all of these great applications would be nothing without servers, network, and storage to support them. This is where our Infrastructure team shines. From the data-center to the equipment in the stores, this group literally keeps us running. In addition to the hardware, they support operating systems, databases, and application servers including Oracle, Microsoft, Redhat, and IBM. As the operators of our customer support center, they are also on the front-lines of IT support to all four corners of the globe.
Governance and PMO
Let's be honest, being in a large organization with many projects can be daunting and complex. This is where our IT Governance group comes in. With competencies in project management, budgeting, and change management they provide our team with the tools and people to help us get things done. And who doesn't want that?
Information Security
So, are you a retailer or part of the U.S. Navy? Why yes we are. Our unique identity brings with it some of the most complex security requirements in the industry. Our Information Security team provides leadership in the development, delivery and maintenance of programs and efforts that aspire to keep our systems safe and secure. They also ensure we keep running should an unforeseen major event or disaster strike.
NEXCOM and YOU

An exciting mission with some of the best customers around? Check.
Tremendous opportunity to work with a variety of technologies? Check.
A rewarding career with great benefits and organizational culture? Check.
A worldwide operation with the core value of supporting our service-members wherever they are? Check.
An opportunity to make a real and meaningful difference? Check.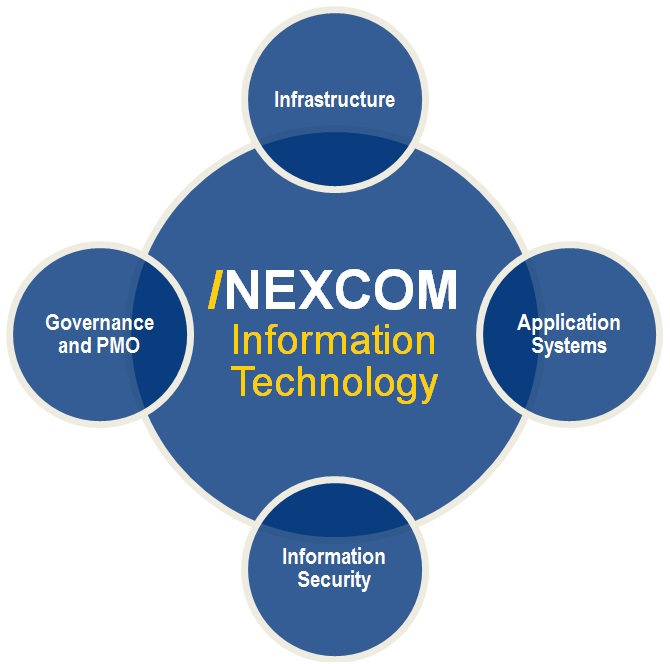 All that is missing is you!