NEXCOM Headquarters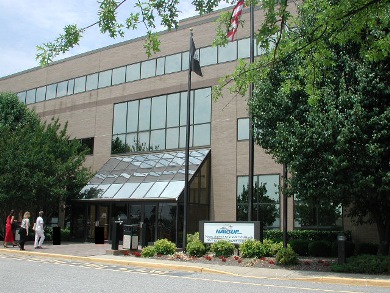 The corporate headquarters for NEXCOM, short for the Navy Exchange Service Command, is located in Virginia Beach, Virginia. With satellite offices in Norfolk and Chesapeake, we employ close to 1,000 associates. Our headquarters offices are home to support functions including Merchandising, Accounting, Human Resources, E-Commerce, Visual Design, Information Technology, Loss Prevention and Safety, Facilities, Distribution, Contracts and Acquisitions, Public Affairs Office, Legal Services, Internal Audit, Military Services, Telecommunications, and Uniforms.
NEXCOM is a world-class retailer achieving almost 3 billion dollars annually and employing close to 14,000 associates. However, we are also a federal entity under the Department of Defense. This unusual status as both a top retailer and a government organization allows our associates special opportunities to develop and maximize the use of their best analytical and creative skills. As a NEXCOM corporate employee, your experience will be unlike anywhere else! In addition, we consider ourselves to be a family. We work closely with our Navy Exchange and Navy Lodge operations around the world, creating a sense of unity between our fantastic corporate and retail associates. As a member of our family, you will be joining some of the most experienced and uniquely qualified employees in the world.
NEXCOM headquarters offers opportunities in executive management, operations management, strategic planning, merchandise buying, planning, and distribution, administration, human resources, training and development, information technology, accounting, and much, much more!
About the Region
Virginia Beach is located in the Coastal Region of Southeast Virginia. With a population of around 450,000 and a strong military presence, Virginia Beach is a diverse city with a wide variety of activities and entertainment. Our colorful and exciting oceanfront boardwalk attracts travelers from around the world every summer and is punctuated by numerous festivals and events. Both residents and visitors remark on our city's relaxed, family-friendly atmosphere. More than just a beach destination, Virginia Beach also offers a popular town center area with all the cosmopolitan features of city life.
Virginia Beach isn't the only city in the area. In fact, this region of Coastal Virginia is referred to as the "Seven Cities." Our closest neighbor is the city of Norfolk. With just a 20 minute drive, you can take in Norfolk's vibrant and historic downtown nightlife. Virginia Beach, Norfolk, Chesapeake, Hampton, Newport News, Portsmouth, and Suffolk are all within 45 minutes of each other, and each has a rich history and culture that make them popular destinations for both local and out-of-state travelers.