Work for Us in Great Lakes, Illinois!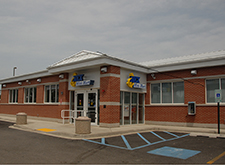 A Unique Location
Since the first group of recruits reported for training 1 July, 1911 Naval Station Great Lakes has become the largest military installation in Illinois and the largest training station in the Navy. As the only "boot camp" in the Navy, NS Great Lakes has welcomed more than 3.5 million Sailors who have started their Navy careers right here in northern Illinois. Their experience here transforms them from civilians into Sailors, and it is an experience that continues to be a source of pride for all who have earned the right to wear the uniform of a United States Sailor.
The Navy Exchange in Great Lakes is truly unique. We take care of our new recruits from the moment they step off the bus. Our Ditty Bag operation processes 39,000 recruits each year. The Ditty Bag is where the Navy recruits begin their military career and the boot camp process. During the Ditty Bag process, the recruits receive all of the basic necessities they are going to need while going through boot camp. All of their personal belongings are packed up and returned to their home. NEX Barbers give our new recruits their first Navy haircut while our Tailors size, fit, and measure over 750,000 uniforms annually! With so many thousands of new recruits arriving each year, our Great Lakes laundry facility processes 3.2 million pounds of recruit laundry.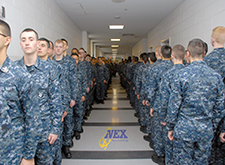 Retail Operations
Over at the Recruit Training Command store, we serve a restricted customer base of recruits and their instructors while offering new Sailors missing their family and friends access to a phone/computer room and a Food Court. Our Photo Lab snaps 37,000 - 40,000 individual shots of new recruits in house and in our mobile photo lab. Upon graduation our Student Store serves the 35% of new Sailors who stay at NS Great Lakes for training with Young Men's and Junior's clothing, Electronics, Navy Pride merchandise, and a wide variety of food choices in the store and in the Food Court. Located in base housing, our Mini Mart/Gas Station offers convenience to our military families. Our Burkey Mall store serves all authorized patrons with a complete shopping experience; Ladies, Men's & Children's apparel, Jewelry, Electronics, Shoes, Housewares, Handbags, Navy Pride, Sporting Goods, Domestics, Pets, and Consumables. Great Lakes also features a busy vending department that maintains 450 vending machines throughout the complex. The Great Lakes warehouse processes all goods that come into the complex which our drivers then deliver to all base locations. Our dedicated Facilities, Janitorial and Visual staff ensure all complex stores are appealing while maintaining excellent standards.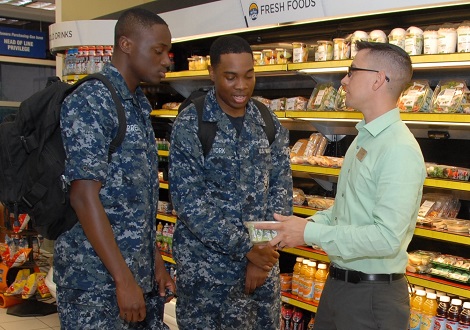 Keeping Families Comfortable
A truly integral part of the Great Lakes base is the Navy Lodge. This 143 room hotel keeps graduates' families, retirees, and transitioning personnel and visitors comfortable in well-maintained rooms held to the highest standards, including recently refurbished family suites with kitchenettes. Having a facility like this nearby supporting Sailors and their families is one of the many ways we support the morale and welfare of our service members. Guests can meet the Navy Lodge manager every Wednesday night at the Manager's Reception. The Great Lakes Navy Lodge live-streams the graduation ceremony from its location for families unable to attend the ceremony in person, while also offering graduates a shuttle service to and from the lodge and ceremony every Friday.
Come work for our team! You do not need to be affiliated with the military to work for us. We are proud to employ 28% retired, prior military and military dependents – and we offer a continuity program for spouses when their Sailor receives military orders.
Find your career opportunity at Navy Exchange Great Lakes in the following job categories:
Retail sales
Cashier
Warehouse/Receiving
Barbers
Facility Maintenance
Janitorial
Photographers
Housekeeping
Hotel Guest Service Representative
Tailoring/Seamstress
Uniform sales
Management/Administrative support
…and more!