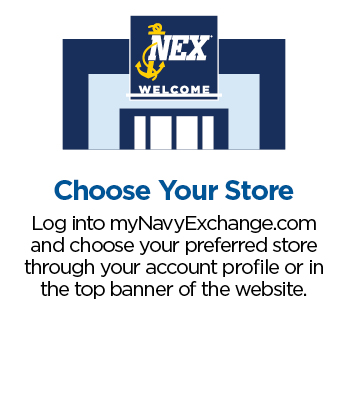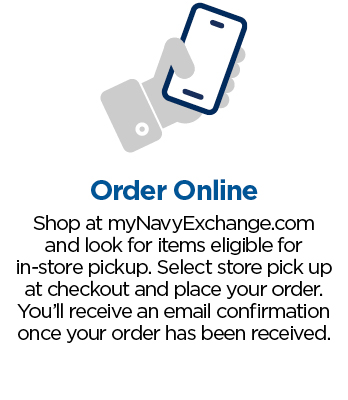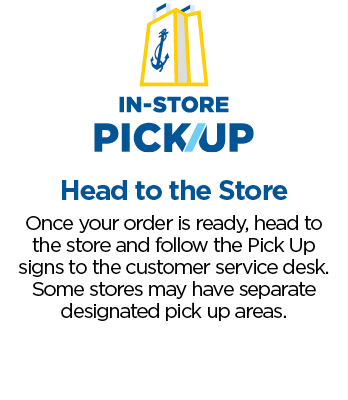 What is the Pick Up program?
The Buy Online, Pick Up in Person program, which we call Pick Up, is a convenient way to order the items you wish to purchase online at mynavyexchange.com and pick up at your preferred NEX store. Orders will be filled within 48 hours (please allow extra time when store is closed, such as Thanksgiving).
What do I need to bring with me to Pick Up my order?
You will need your military ID or dependent card or CAC when picking up your order. To facilitate Pick Up, please have your "Ready for pickup" email available for reference (contains your order number for quicker service).
How does Pick Up work?
Simply go to myNavyExchange.com, select In-store pickup and place your order. You will receive an email confirmation acknowledging receipt of your order. A second email will be sent when your order is ready for pickup. Once you arrive at the store, follow the bright yellow & blue signs to the Pick Up location. Please be sure to have your "Ready for pickup" email available for review, as this will contain your order number. You will also be asked to provide your military ID, dependent card or CAC. Pick Up locations will vary by location (most will be at the Customer Service area, but as an example, Pensacola Pick Up is at the Home Gallery Service Counter).
Where do I go to collect my Pick Up order?
While most stores will utilize the Customer Service area for Pick Up, we recommend checking the Find a Store page for your store (located on www.mynavyexchange.com at the top of the page to the left of the image of the cart). This will indicate where your Pick Up order will be located as well as store hours and directions.
Is every item available for Pick Up?
At this time, only a select number of items are available for Pick Up. The plan is to add additional products as the program grows in participation.
When will I be charged for my order?
You will be charged for your order at time of Pick Up.
Please note: At the time your order is placed, an authorization is placed against your available credit for the amount of the purchase. While you are not charged, these funds are reserved for this purchase.
What if an item is not available?
At time of checkout, the system will check the current availability of all items in your cart. If an item has sold out at your selected store you can a) select another store as a Pick Up location or b) change your delivery method to have the items delivered to your home or shipped to a store for pick up at a later day (typically within 5-7 business days for most locations).
How do I cancel an order?
There are several ways to cancel an order. You may call the Customer Service team at the store where you would have picked up your order or, if you are visiting the Store, stop by the Customer Service area and advise an associate that you wish to cancel your Pick Up order. Please have your order number available to facilitate the process. It can be found on your "Ready for pickup" email.
Can I change my store after the order has been placed?
You would need to contact the original store and ask to have the order canceled. To expedite the request, please have your order number available. This can be found on your "Ready for pickup" email. You would then need to reorder the items selecting the store you wish to use for Pick Up.
How do I Return an item purchased through the Pick Up program?
Simply bring the item(s) back to your nearest Navy Exchange. Please present your "Ready to pickup" email as proof of purchase and to expedite your return. If you are unable to access an NEX store, please contact our Customer Care Center team by calling 877.810.9030. They are open and available 24 hours a day, seven days a week (except Christmas Eve and Christmas Day).
How will I know when my Pick Up order is ready?
You will receive an email when your order is ready for pickup.
How will I be refunded if I return an item?
Refunds will be credited against your original form of payment. Should the original form of payment no longer be available, store will issue an NEX gift card for the value of the return.
Please note: While we process your return immediately upon receipt in store, most banks take up to 5 business days before you see the credit on your account.