Managing Your Military Star Account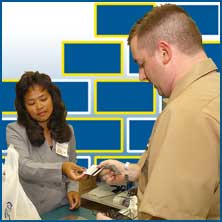 Save copies of all your receipts/charges.
Open your monthly billing statement promptly and compare charges to receipts you have saved.
Contact the Exchange Credit Call Center if any questionable charges/credits appear in your billing statement.
Notify the Exchange Credit Call Center of change of address. An incorrect address will delay receipt of your statement.
Make payments on time. If you are unable to make your payment, contact the Exchange Credit Call Center right away.
Register for on-line statements, view your account and set up automatic payments to be deducted from your bank account.
If you wish to dispute a specific charge, you must submit the dispute in writing within 60 days after you've received your statement.
If you have any questions regarding your Military Star Account, please contact the Exchange Credit Call Center – 1-877-891-7827 or www.milexch.com