Building Credit Wisely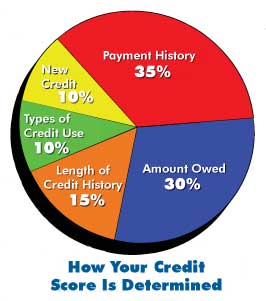 When applying for credit, lenders will want to know your credit risk level and will look at your credit score. This credit score influences the credit that is available to you. It's a vital part of your financial health.
How credit scoring works
Scoring allows lenders to make credit decisions within minutes.
Using credit scoring, lenders can focus on the facts related to credit risk. Factors like your gender, race, religion, nationality and marital status are not considered in credit scoring.
If you have had poor credit performance in the past, credit scoring doesn't allow that to haunt you forever. While recent good payment history enhances your credit score, past credit problems fade with time.
Your Credit Report
Your credit report lists what type of credit you use, the length of time your accounts have been open, and whether or you have paid your bills on time. It tells lenders whether you're seeking new sources of credit and how much credit you've used. You should review your credit report from each credit reporting agency at least once a year. You are entitled to one free report per year at www.annualcreditreport.com or contact one of the three major credit bureaus
Understanding Your Credit Score
Payment History: 35%
Pay your bills on time – Delinquent payments and collections can have a major impact on your score.
Stay current – The longer you pay your bills on time, the better your score.
Amounts Owed: 30%
Keep balances low on credit cards and other "revolving credit".
Pay off debt rather than moving it around.
Don't close unused credit cards as a short-term strategy to raise your credit score.
Don't open a number of new cards that you don't need just to increase your available credit.
Length of Credit History: 15%
How long have your credit accounts been established? The score considers both the age of your oldest accounts and an average age of all your accounts.
How long specific credit accounts have been established?
How long has it been since you used certain accounts?
New Credit: 10%
Opening several credit accounts in a short period of time does represent greater risk.
How many new accounts do you have?
How long has it been since you opened a new account?
How many recent inquiries for credit have you made?
Length of time since credit report inquiries were made by lenders.
Whether you have a good recent history, following past payment problems.
Types of Credit Use: 10%
The score will consider your mix of credit cards, retail accounts, installment loans, mortgage loans and finance company accounts.
Note that closing an account doesn't make it go away. A closed account will still show on a credit report and may be considered for the score.
Note: The appearance of hyperlinks does not constitute endorsement by the Department of Defense/the US Army/the US Navy of this Web site or the information, products or services contained therein. For other than authorized activities such as military exchanges and Morale, Welfare and Recreation sites, the Department of Defense/the US Army/the US Navy does not exercise any editorial control over the information you may find at these locations. Such links are provided consistent with the stated purpose of this DoD Web site.