Naturally Sourced vs. Lab Grown Diamonds
Natural and lab grown diamonds are chemically, optically, and gemologically the same, however there are a few key differences:
Natural diamonds were created deep in the earth over billions of years. They carry a higher price tag due to their rarity value, which means they also have a higher resale value. Lab grown diamonds are man-made in a controlled laboratory setting over several weeks or months. They are 100% conflict-free and offer incredible value with a lower price tag due to the fact that their creation is controlled.
Shop All Diamonds

Diamond Shapes

Round
The most classic of diamond shapes, the round brilliant cut features 58 facets with 360-degree symmetry. Because of the angles and shape, the round brilliant-cut diamond is touted for a high degree of fire and brilliance.

Cushion
The cushion cut has a softened square outline, as the name implies. This cut produces magnificent fire and sparkle in almost any light. Depending on your preference, you can choose a cushion cut that's more square or elongated.
Asscher
Also known as a square cut diamonds, the asscher cut features large step facets and a high crown that produces a brilliance unlike any other diamond. Inspired by the art deco era, this cut is perfect for those looking for a stunning vintage aesthetic.

Princess
Princess cuts are highly sought-after and among the most brilliant of all diamond shapes. They appear square from the face-up, but are shaped like inverted pyramids with two to four chevron patterns on the underside of the cut.
Radiant
A striking combination of the round and emerald cut, the radiant diamond can be either square or rectangular. This unique shape is a perfect match for those who love the contours of an emerald cut but want the sparkle of a round brilliant cut.

Emerald
Classic and subtle in its beauty, the emerald cut's perpendicular and parallel rectangular-shaped facets create dramatic flashes of light. The clean lines of this 27-facet style create a more elegant and sophisticated look for both simple solitaires and elaborate engagement settings.
Oval
The 58-faceted oval diamond combines the beautiful sparkle of a round brilliant cut with an elegant elongated shape. This cut is a great option if you're looking for a slight twist from the ordinary.
Marquise
The striking, elongated shape of the marquise cut tapers and has pointed ends. Often referred to as an "eye," these diamonds vary in shape from gem to gem, making each one special and unique.
Pear
Unique and feminine, the pear cut features an elongated shape with a rounded end, tapering to a point on the opposite side. This cut combines the look of oval and marquise-shaped diamonds.

Understanding The 4 C's
Choosing a diamond for the one you love can be magical, meaningful, and stressful all at the same time. Our guide to the 4C's of diamonds includes the traditional four factors: cut, color, clarity, and carat weight.

Considered the most important factor when choosing a diamond, the cut refers to the balance of proportion, symmetry, and polish achieved by the diamond cutter. The better a diamond has been cut, the greater the diamond's ability to reflect and refract light with sparkling brilliance.

There are five different cut grades of a diamond: excellent, very good, good, fair, and poor. Diamond cut grade is based on a number of factors including symmetry, polish, brilliance, and fire.
Choosing the right color for your diamond is based on personal preference. Color refers to the natural coloration of a diamond. It's important to remember that you are generally searching for a stone with little to no color.

Many diamonds may appear colorless to the untrained eye, but the majority contain slight traces of yellow. Color is graded on a scale from D to Z. D, E, and F are colorless. G, H, and I will look colorless yet contain slight traces of yellow. J, K, and L will have a slight hint of yellow to the trained eye.

One thing to note is that the type of setting can affect the appearance of a diamond's color. Yellow and rose gold settings tend to disguise the yellowness in a stone, while platinum and white gold are less forgiving.
Clarity represents the degree to which a diamond is free of natural internal flaws, called inclusions. The fewer the inclusions a diamond has, the more valuable it is.

Evaluating diamond clarity involves determining the number, size, relief, nature, and position of these characteristics, as well as how these affect the overall appearance of the stone.While clarity characteristics can sometimes affect durability, mainly in the I2 and I3 range, most inclusions are simply natural characteristics of a particular diamond. As for clarity grades, none are right or wrong. The grade you settle on will depend on your particular preferences.
Carat is the weight measurement of a diamond. One carat equals 100 points, with each point equaling 1/100th of a carat. Diamond price usually increases with diamond carat weight because larger diamonds are rarer and more desirable. But two diamonds of equal carat weight can have very different values (and prices) depending on the other C-factors of the diamond: clarity, color, and cut.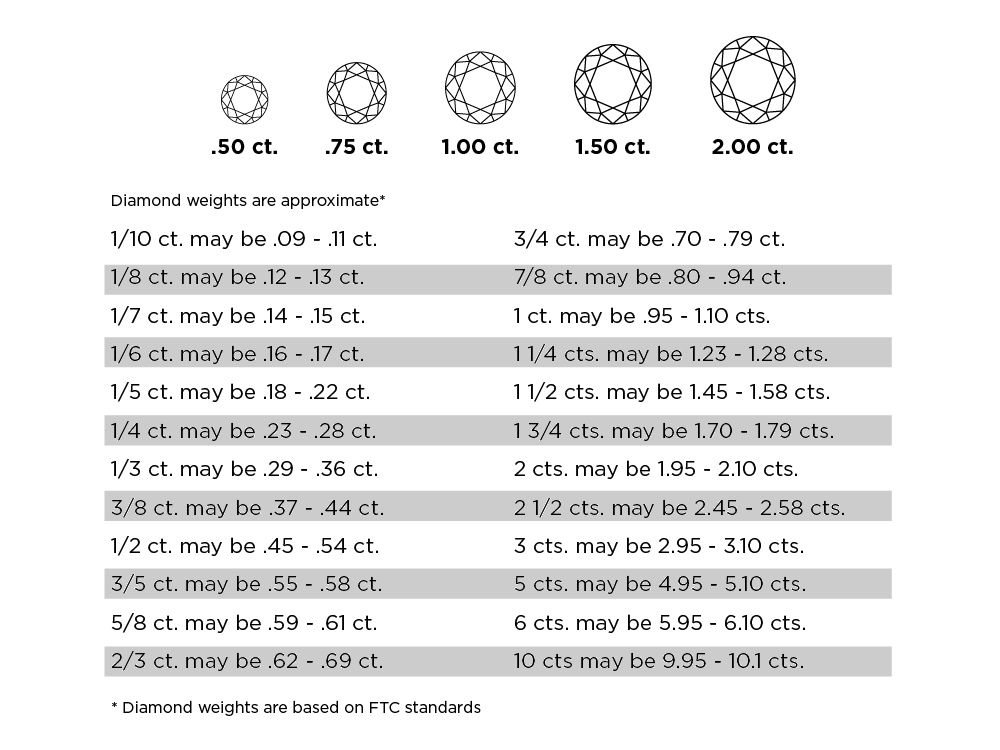 About Our Diamonds
Lifetime Trade-Up Program
Whether you want a bigger diamond or a new style, trade in your NEX-purchased diamond at any time and receive full credit towards the purchase of another diamond jewelry item of at least 50% greater in retail value than the returned item. Come into your NEX and see a jewelry sales associate for more details.
Trade-up certificate, receipt, and inspection of the returned diamonds are required at the time of trade-in.
Keep Your Jewelry Beautiful and Brilliant
The Exchange Protection Plan protects your Jewelry purchase. Choose between our 2-Year or Lifetime Plans. All Exchange Protection Plans are based on the product purchase price.
IGI Certification
As the world's largest independent gem certification and appraisal institute for diamonds, colored gemstones, and jewelry, International Gemological Institute is a standard of excellence for industry professionals and consumers around the globe.
Each diamond purchased from your Navy Exchange valued at over $2,000 comes with a certified IGI report which grades color, clarity, carat weight, and provides the retail replacement price.

Ready to Find the Perfect Diamond?
Your Navy Exchange has collections of unique jewelry to treasure forever.
Shop Now