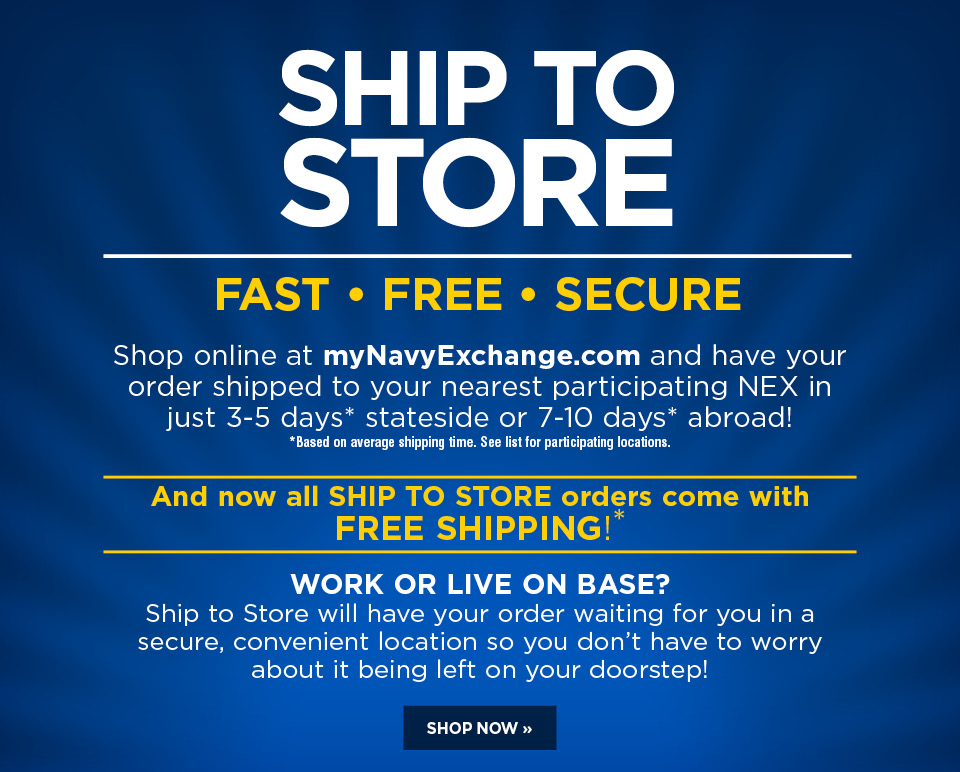 Participating locations include:
CA:
NEX San Diego, NEX North Island, NEX Lemoore, NEX Port Hueneme, NEX Monterey, NEX China Lake, NEX El Centro.
CT:
NEX New London.
DC:
NEX Washington Navy Yard.
FL:
NEX Jacksonville, NEX Pensacola, NEX Mayport, NEX Orlando, NEX Key West, NEX Whiting Field, NEX Panama City, NEX Pensacola Aviation Plaza.
GA:
NEX Kings Bay.
HI
: NEX Pearl Harbor, NEX Kauai.
IL:
NEX Great Lakes Burkey Mall, NEX Great Lakes Student Store.
IN:
NEX Crane.
LA:
NEX Belle Chasse.
MD:
NEX Bethesda, NEX Annapolis, NEX Pax River, NEX Indian Head.
MS:
NEX Gulfport, NEX Meridian.
NJ:
NEX Colts Neck, NEX Lakehurst.
NV:
NEX Fallon.
NY:
NEX Mitchel Field, NEX Saratoga Springs, NEX USMMA.
PA:
NEX Mechanicsburg, NEX Philadelphia.
RI:
NEX Newport.
SC:
NEX Charleston.
TN:
NEX Memphis.
TX:
NEX Corpus Christi, NEX Kingsville.
VA:
NEX Norfolk, NEX Little Creek, NEX Oceana, NEX Dam Neck, NEX Portsmouth Scott Center, NEX Portsmouth Naval Hospital, NEX Yorktown, NEX Northwest Annex, NEX Wallops Island, NEX NSA Hampton Roads, NEX Dahlgren.
WA:
NEX Bangor, NEX Bremerton, NEX Everett, NEX Everett Fleet Store, NEX Whidbey Island, NEX Whidbey Island Fleet Store.
OCONUS:
NEX Djibouti, NEX Bahrain, NEX Jebel Ali, NEX Romania, NEX Yokosuka, NEX Sasebo, NEX Atsugi, NEX Singapore, NEX Gaeta, NEX Guam, NEX Naples, NEX Sigonella, NEX Capodichino, NEX Souda Bay, NEX GITMO, NEX Rota**, NEX Moron**.
*Excludes mattresses, major appliances, special orders or oversized items that currently ship with a surcharge. Ship to Store is not currently available via the MyNavyExchange.com mobile site. To use Ship to Store, please view our full desktop site here.
**The Ship to Store Program is available at NEX Rota for all persons issued a Tarjeta Especial de Identificacion ("TEI Card"). To pick up a purchase, customers will need to present their TEI Card to gain access to the facility.