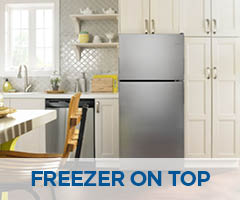 Top Freezer Refrigerators:
Provides a spacious interior
Reversible doors swing left or right to accommodate tight spaces
---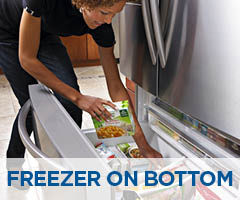 Bottom Freezer Refrigerators:
Makes food in refrigerator easier to reach without bending over
Items in freezer are easy to access
Freezer door may pull out or swing open
---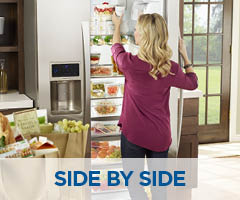 Side by Side Refrigerators:
Puts both frozen and refrigerated food within easy reach
More freezer capacity than some other configurations
Narrow doors take up the least room when opened. A good chioice for narrow or galley-style kitchens
---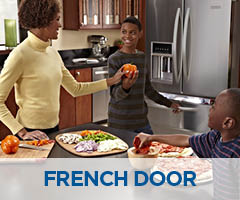 French Door Refrigerators:
Designed to accommodate larger plates and platters
Allows for easier accessibility to the fresh-food compartments and main refrigerator area
Some models offer an additional middle refrigerated pantry drawer
---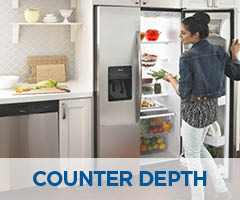 Counter Depth Refrigerators:
A stylish option that sits flush with the cabinet fronts
Blend seamlessly with kitchen cabinets for a built-in look
---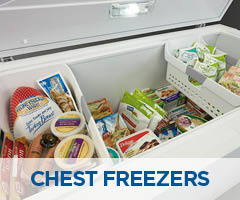 Freezers:
SHOP ALL FREEZERS >>
Chest Freezers:
Store large quantities of food
Chest freezers tend to have a longer lifecycle than upright freezers.
Will stay colder longer in a power outage.
Upright Freezers:
Take up less floor space than a chest freezer
Shelves and in-door storage allow for easier organization

Think about your shopping habits:
Do you go to the store frequently and shop for more fresh foods?
Make sure you have plenty of capacity for fresh food in humidity-controlled compartments and storage drawers. Keep in mind that an empty refrigerator runs less efficiently than one full of food. If you shop frequently a smaller capacity refrigerator might better suit your needs.
Do you like to save money by bulk shopping?
Adjustable shelves will allow you to store larger sized food items. A french door refrigerator has more horizonal capacity for wide food trays and prepared foods.
Do you rely on the convenience of frozen foods to save time?
If so, more freezer space should be on your list of requirements. A bottom freezer makes ice and frozen items more accessible for kids.
The general rule of thumb is that 4-6 cu. ft. of space should be devoted to each adult in your household. When you add up the total, you should have a good starting point for total fridge capacity.

INTERIOR FEATURES:
Adjustable glass shelves - Sliding shelves make it easier to reach items placed toward the back of the fridge. and shelves that flip vertically from hinges on the outside edges of the shelf create customized space.
Air filtration system - A built-in carbon filter keeps air in the refrigerator fresh.
Fast-cooling compartments - Cool things down fast without freezing them.
Humidity-control drawers - These display fruits and veggies clearly while keeping them fresh with adjustable humidity settings.
In-door ice storage - These systems free up more freezer space by moving the ice bin from the freezer interior to the door.
Oversize door bins - Bins with adjustable heights can accommodate gallon-size milk jugs, juice and 2-liter bottles of soda, making them easier to grab and saving shelf space.
Pantry drawers - Deli tray shelves allow you to store large platters.
Quiet operation - Reduces the noise from your fridge and helps keep your kitchen quiet.
EXTERIOR FEATURES:
Built-in ice maker/water dispenser - Ensures that there's always plenty of ice and cold water immediately available at the touch of a button. Look for icemakers and water dispensers with built-in filtration systems.
Child locks - Help prevent little chefs from accidentally leaving the door open or getting at treats when they are not supposed to.
Door or temperature alarms - Alert you when the refrigerator has been left open for more than a few minutes.
Door-in-door - French doors open to an upper refrigerator compartment to reveal a door inside the door. A door-in-door feature saves energy because you can access frequently used items from an in-door bin rather than fully opening the refrigerator doors.
Programmable control pad - Set the temperature, lock the ice and water dispenser, check filter condition and pre-set the amount of water to dispense with the push of a button.