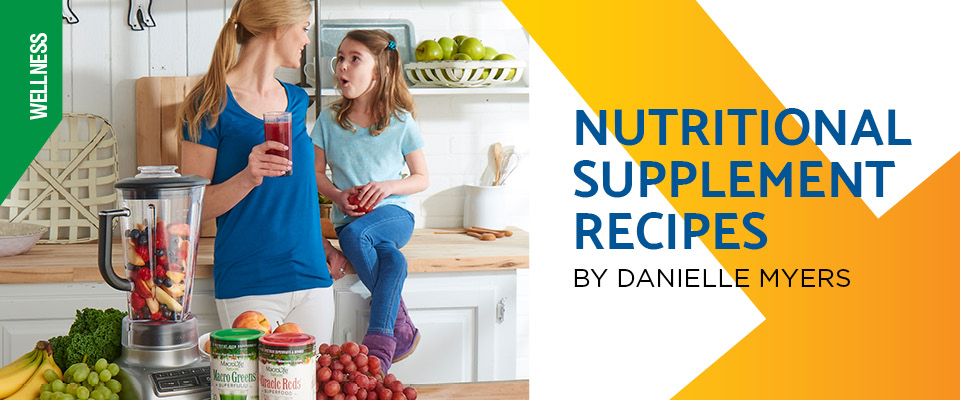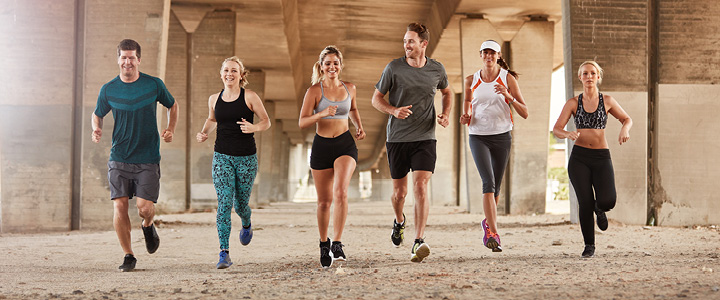 A nutritious diet is a key component to looking and feeling our best. However, most of us live hectic, face paced lives and we aren't always able to get all of the nutrients we need from our food alone. Nutritional supplements are one way to make the most of what you are consuming. The simple recipes below use few ingredients, but are full of health benefits. For example, one smoothie made with Macro Greens contains 5 servings of fruits and veggies! The Navy Exchange offers an array of supplements that can help you in your wellness journey. Check with your local store for offerings.
Smoothies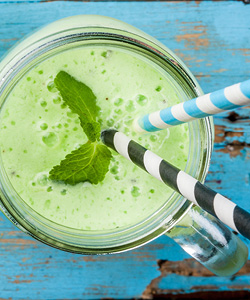 The "Green Cow"
Ingredients:
1 cup frozen strawberries
1 Tbsp. honey
1 cup non-fat yogurt
1 cup non-fat, soy or almond milk
1 scoop Macro Greens from MacroLife Naturals
Directions:
Blend frozen strawberries, honey, non-fat yogurt, non-fat soy or almond milk, and 1 scoop of Macro Greens until smooth.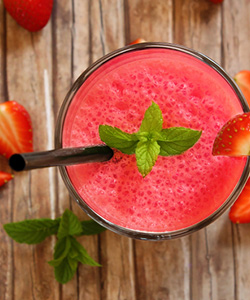 Fruit Smoothie
Ingredients:
1 cup apple juice
1 cup filtered water
1 cup frozen berries or fruit mix
1 scoop Miracle Reds or Macro Greens from MacroLife Naturals
Directions:
Blend apple juice, filtered water, frozen berries or fruit mix, 1 scoop or Miracle Reds or Macro Greens until smooth.
Do you know the story and benefits behind Macro Greens and Miracle Reds?
A nutritional supplement that tastes great and is easy to prepare, Macro Greens was created in 1998 by fitness expert Sylvia Ortiz to help her son lose weight and regain his health; and since its introduction has become one of the most popular products across the country. Macro Greens is a true green superfood containing 38 ingredients that feed the body at a cellular level. It nourishes the body with antioxidants, co-nutrients, enzymes, vitamins, minerals and amino acids. Macro Greens is made with no common allergens, certified organic barley grass and 37 additional synergistic ingredients.
38 nutrient rich superfoods

18 billion probiotics

Richest alkaline greens formula

Contains 5 servings of fruits and vegetables

Boosts energy and supports natural weight loss

Supports healthy immunity

Promotes gentle daily cleansing

Herbal antioxidants; aloe vera, ginkgo, grape seed extract

Voted "best tasting greens"

Non-GMO, vegan, gluten and dairy-free
Note: It is not recommended to mix Macro Greens with any citrus juice or any juice that would be too acid like tomato, orange or grapefruit juice, because it kills the friendly bacteria in the Macro Greens. The best juice to use is apple, white grape, pear, peach, white cranberry, or apricot.
The Miracle Reds provide more than a fruit blend; it is an advanced, non-allergenic, proprietary blend of nutrient-rich, anti-aging anti-oxidants, polyphenols and heart-friendly plant sterols. A Super Fruit Blend of blueberries, boysenberries, elderberries, blackberries, and red raspberries combines to form a nutritional powerhouse. Miracle Reds are packed with antioxidants proven to help mop-up unstable free radicals that damage cells.
Antioxidant-Rich Fruits and Berries

Power of 670mg Plant Steroids

Super ORAC Acai, Goji, Mangosteen & Turmeric

Complete Anti-Aging Antioxidant Spectrum

Supports the Maintenance of Good Health

Supports healthy immunity

Perfect Post Workout Recovery Formula

Nutrient-Rich Replacement for Juices & Sodas

Non-GMO, Vegan, Gluten & Dairy Free

Delicious Berry Taste

PLUS: Non-Dairy Probiotic Culture. Contains 1 billion non-dairy "friendly bacteria" per serving. This helps with the digestion of foods and also with the absorption of vitamins and minerals.
(Source: Macrolife Naturals, 2018.)
Snacks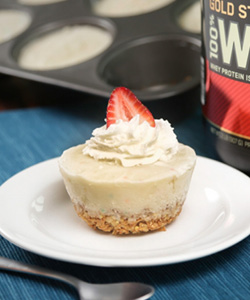 Krystal Rhodes-Skinner's Birthday Cake Protein Yogurt Bites
Ingredients:
1/2 Cup Granola
1 Cup Plain Greek Yogurt
1 Scoop Gold Standard 100% Whey Birthday Cake
Directions:
Blend frozen strawberries, honey, non-fat yogurt, non-fat soy or almond milk, and 1 scoop of Macro Greens until smooth.

Fill bottom of each indentation with granola, pressing firmly with spoon
Bake at 350 degrees for 15 minutes or until golden brown
Mix together yogurt & Gold Standard 100% Whey in small bowl
Scoop mixture on top of granola in cooled muffin pan
Top with fresh fruit, nuts, etc. and freeze until firm
Recipe Makes: 8 Bites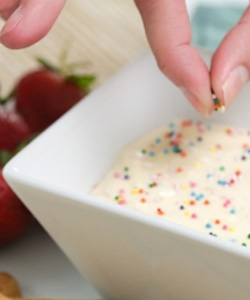 Birthday Cake Protein Pudding Dip
Ingredients:
1 container of vanilla Greek yogurt
8 grams of sugar-free pudding powder
3 Tbsp. of fat-free milk
1 scoop Gold Standard 100% Whey Birthday Cake
Directions:
Place container of vanilla Greek yogurt in medium sized bowl

Add other ingredients
Mix until powder is dissolved
Chill until served
Enjoy as a pudding or dip
Recipe Makes: 2 Servings
The Power of Protein
Whey protein is an excellent source of high quality protein. It is very digestible and quickly absorbed. It has a great deal of nutritional value and numerous health benefits.
Promotes muscle growth

Enhanced antioxidant defense

Highly satiating to help reduce hunger and promote weight loss

May lower blood pressure and help treat type 2 diabetes

May help reduce inflammation and beneficial for inflammatory bowel disease

May have beneficial effects on blood fats
(Source: 10 Evidence Based Health Benefits of Whey Protein, 2017)
Optimum Nutrition's Whey Protein Isolates (WPI) is the purest form of whey protein that currently exists. WPIs can be costly to use, but rate among the best proteins that money can buy. That's why it's the first ingredient on the Gold Standard 100% Whey™ label. By using WPI as the primary ingredient along with premium ultra-filtered whey protein concentrate (WPC), Gold Standard is able to pack 24 grams of protein into every serving to support your muscle building needs after training. Attention to detail also extends to mixability. This superior quality powder has been instantized to mix easily using a shaker cup or just a glass and spoon. There's no doubt that this is the standard by which all other whey proteins are measured.
Whey Protein Isolate (WPI) main ingredient

Whey protein microfractions from Whey Protein Isolates & Ultra-Filtered Whey Protein Concentrate

Over 4 grams of glutamine & glutamic acid in each serving

More than 5 grams of the naturally occurring branched chain amino acids (BCAAs) Leucine, Isoleucine, and Valine in each serving

The "Gold Standard" for protein quality
(Source: Optimum Nutrition, 2018)
Nutrition Disclaimer: I am not a certified nutritionist and make no claims to the contrary. Each individual's dietary needs and restrictions are unique to the individual. You are ultimately responsible for all decisions pertaining to your health. This article is written and produced for informational purposes only. Statements within this site have not been evaluated or approved by the Food and Drug Administration. This website is not intended to diagnose, treat, cure or prevent any disease. Content should not be considered a substitute for professional medical expertise or treatment.